More than half of Canadians say they aren't financially prepared if interest rates jump
Date Posted: August 28, 2017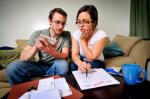 Manulife Bank's annual homeowner debt survey was published last Tuesday, and it paints a grim picture of consumers who may not be ready for the next increase in interest rates that could be coming.
The survey reports that a large percentage of Canadians are not prepared for unexpected expenses. With home prices rising across the country, in some cities much quicker than others, it has been significantly more difficult for millennials to enter the market.
In Toronto, the average sale price was $746,000 in July 2017 (down 13% from the average $919,000 in April 2017).
The concern with millennials comes with their struggle to deal with unexpected costs. With some entering the housing market and purchasing a home which can max out their affordability capability, something like a broken down furnace, or expensive car repair expense can throw them into financial trouble. While baby boomers lack financial flexibility as a majority of their net worth is tied up in their homes.
Baby boomers have also seen an increase in debt, thanks to an increasing amount of millennials requiring the aid of their parents in order to enter the housing market.
The survey reports that a significant amount of Canadians will have trouble handling a 10% increase in their mortgage payments, should they face a rate hike.
It is extremely important that, when shopping for a new home and mortgage, you ensure you have signing up for a product that will be affordable today, and down the road. Though it is difficult to predict where rates and your life will be 5+ years down the road, a mortgage broker can help plan for the unexpected and help set you up for a mortgage that meets your unique situation. Contact one of our mortgage brokers today and find out how you can best prepare for the future.