Water damage is probably the biggest threat to your home. Are you protected?
Date Posted: August 22, 2017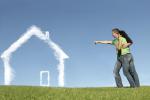 If you've owned a home for any length of time, you likely have come across some form of water damage. Whether it is leaky pipes, toilet, appliances, powerful rainstorms or overloaded city sewers, 48% of home insurance claims in 2011 were for damages caused by water.
There are multiple ways that water from outside your home can enter and cause damage, typically by flooding your basement. While sewer-backup coverage has been available and is standard is most home insurance plans, overland water is something fairly new to be included in most plans today. While being standard in most commercial policies, overland coverage has only become standard in residential policies due to the 2013 floods in Alberta.
While Canadians are becoming much more involved in reviewing their mortgage options when shopping for a new home, or coming close to their renewal, it is also extremely important to review your home insurance policy and coverage on a yearly basis to ensure you have sufficient coverage for all sorts of potential situation which could leave your house damaged.